Heinz Jungbluth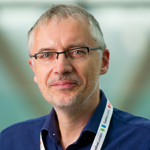 Consultant in Paediatric Neurology and Senior Lecturer – Guy's and St Thomas' NHS Trust and King's College London
United Kingdom
Dr Heinz Jungbluth runs clinics for children affected by neuromuscular and neurological disorders.
Following graduation from medical school in Germany and specialty training in the United Kingdom, Heinz has been working as a consultant and senior lecturer in children's neurology at Evelina London since 2004. His main research interest is in neurogenetics and he has been leading the clinical and genetic characterization of a wide range of inherited neurological and neuromuscular disorders.
Heinz is a leading member of various national and international expert consortia concerned with improving the care and developing therapies for patients affected by neuromuscular disease.